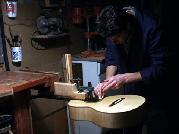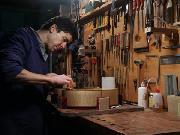 MODERN GUITARS
My base model has a string length of 650mm. The soundboard is made of European spruce (picea abies), back and sides of curly maple (acer pseudoplatanus), neck of mahogany, bridge of maple or walnut. It is characterized by an extremely clear sound that is well-balanced and responsive. It offers a sharp distinction of sounds and perfect projection throughout all the registers and at the same time it maintains its rich and warm colors. All my guitars are made of naturally seasoned wood, worked exclusively by hand. They are completely finished in French-polished shellac and, esthetically speaking, no two guitars are alike.
When I make instruments on commission, I first have to understand what my client's requirements are in order to suggest possible variations: the choice of wood (for example, soundboard in cedar, sides and back in rosewood or other kinds of wood, neck in maple or cedrella), etc. I also make instruments with different string lengths, 7-8 or 10 strings. Their price depends on the type of construction.
ABOUT THE MAKER
When I was a teenager, I started my apprenticeship at a master carver's workshop. For ten years I worked with my teacher Giuseppe Bullo creating beautiful wood carvings, sculptures, furniture, etchings and prints. I also did a lot of guilding and restoring antique furniture and artwork. This experience gave me the opportunity to learn about the essence of wood, it's countless potential and endless source of beauty. Meanwhile, for seven years, I studied classical guitar with Maestro Angelo Amato (a student of Andres Segovia). My passions for wood and guitar could not but meld into the construction of musical instruments.
In 1992, I won a scholarship at 'Centro Europeo del Restauro' on the island of San Servolo (Venice, Italy). The courses I took there enabled me to refine my respect for handmade artwork as well as learn other techniques used for restoration of antique wooden objects.
Since I started making guitars, I haven't stopped doing the kinds of research that help me improve the acoustic qualities of my instruments. This has led me to the application of antique recipes for the preparation of wood primers and to the use of homeopathic-biodynamic products.
I actively collaborate with world famous guitar players Ms. Filomena Moretti and Mr. Massimo Scattolin.
Ms. Filomena Moretti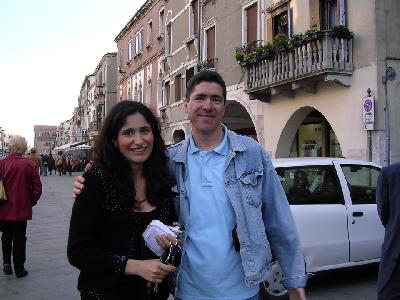 Mr. Massimo Scattolin